The Weird Times
Inner Monologues and Desultory Reporting from Outer Spaces
The Weird Times, Issue 17, September 6, 2020
"A general dissolution of principles and manners will more surely overthrow the liberties of America than the whole force of the common enemy. While the people are virtuous they cannot be subdued; but when once they lose their virtue then will be ready to surrender their liberties to the first external or internal invader.

― Samuel Adams
+++
"Weird always wins and loses in the end." – Elaine Equi, "Ode to Weird"
+++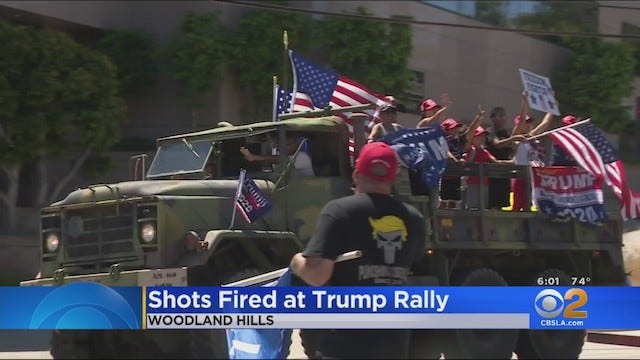 Please click through to read the piece below in full. And circulate it as widely as you can. We are on a precipice. And there is no one to save us but ourselves.
America Was Already a Failed State. It is about to become an Authoritarian One, by Umair Haique, Medium, September 4, 2020.
That is what the next 60 days will decide. Does America survive? Or does it become the new Soviet Union? The new Nazi Germany? Another Iran, North Korea, Saddam's Iraq? The latest nation that went from failed to authoritarian state?

Do not take the warning lightly. We survivors and scholars have one message for you:

It's much worse than you believe, and it's much later than you think.
+++
"This president long ago forfeited any moral leadership in this country. He can't stop the violence—because for years he has fomented it. Does anyone believe there will be less violence in America if Donald Trump is re-elected?" – Joe Biden
Of course, DJT does not want to stop the violence. The authoritarian playbook he follows is pretty simple and very simplistic: foment violence between left and right, and then claim that only the fearless leader can quell the discord he has started. Tautological and highly effective.
The Covid death toll is a daily accretion of horrible news but its sheer scope and relentlessness means that it makes less of an impression in the minds of the general public than does a single violent death filmed on a street in an American city. Violence and looting can change public opinion. The leader knows this and focuses our attention on the actions that suit his desire for power and control.
"It is not, then, the facts in themselves that strike the popular imagination, but the way in which they take place and are brought under notice. It is necessary that by their condensation, if I may thus express myself, they should produce a startling image which fills and besets the mind. To know the art of impressing the imagination of crowds is to know at the same time the art of governing them." --Gustav Le Bon, The Crowd: A study of the popular mind (1895)
+++
"It is Trump's America where people don't feel safe." –Roert Kuttner, The American Prospect, August 31, 2020
+++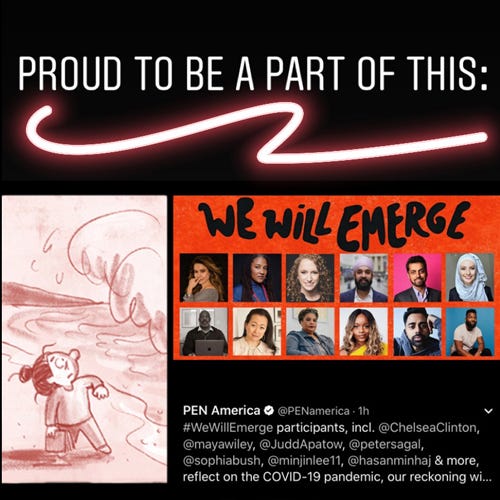 Check out PEN America's We Will Emerge initiative. Writers organizing to change minds and make change.
In the absence of presidential leadership, we look to our elders for wisdom, and we are reminded of the poignant words of historian Robin D.G. Kelley, who once asked, "What shall we build on the ashes of a nightmare?"

"We Will Emerge" is a humble attempt at building a vision, one that is entirely fueled by hope. However, this is not an empty gesture filled with saccharine pleasantries.
+++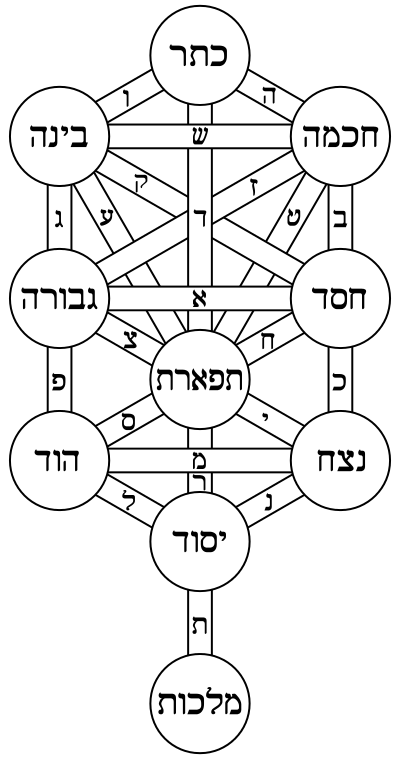 There is one prophetic text though in Zohar that has fascinated many—it is a prediction of the evolution of human consciousness "every 60 years" starting in the Hebrew calendar year of 5,600 (the present year is 5,799). What that translates into is that starting with the year 1840 you count 60 years for the next leap of consciousness. The ensuing years then are 1900, 1960 and coming up, 2020. While every year and certainly every decade brings advancement, it is the underlying teaching that is implied by this Zohar text that signals optimism for our growth in understanding and awareness. Keep in mind that the Zohar's dates are tracking the Hebrew calendar which "happen" to correspond to years we assign special meaning.

In less than 120 years we have progressed in our science from Einsteinian to Quantum physics, from our discovery of planets in our solar system to recognizing that our solar system is but one of trillions in thousands of galaxies. We have progressed, slowly and fitfully, toward gender, sexual and racial equality and are only now realizing our place among the interconnected bio and ecosphere. We have only begun to evolve beyond dogmatic religious or secular philosophies and fantasies. We don't need perfect vision, but if 2020 is to be another leap forward in our awareness we certainly need to heed and learn from our mistaken notions and take one giant step forward in consciousness.
Kabbalah Experience, 2020 Vision
+++
Liberty University staff and alumni called for more prayer after it was reported that the wife of Jerry Falwell Jr., who resigned as president after it was revealed that he had paid to watch a man have sex with his wife, had also had sex with a then-22-year-old student. When asked to comment, Falwell said that it was "better to leave at the top" and quoted Martin Luther King Jr.'s "I Have a Dream" speech. –Harper's Weekly Review, September 1, 2020
+++
Did DJT break the law when he went to Kenosha to stoke violence among his rabid followers (those "fine people")?
Whoever travels in interstate or foreign commerce or uses any facility of interstate or foreign commerce, including, but not limited to, the mail, telegraph, telephone, radio, or television, with intent to incite a riot … [s]hall be fined under this title, or imprisoned not more than five years, or both.
+++
Trump doubled down on his tactic of fomenting violence and then blaming Democrats and Black activists. His trip to Kenosha was mostly a fizzle and protestors did not take the bait. But the violence story also kept real issues out of the headlines.

In the meantime, tens of millions of real people denied federal aid are needlessly suffering. Trump's latest executive order suspending evictions provides some help on one front as well as symbolic reassurance—and once again diverts attention from his blockage of the larger relief bill.

Biden, Pelosi, and the Democrats, not to mention the media, need to get that disgraceful story back into the headlines. Otherwise, they will keep being Trumped. – Robert Kuttner, The American Prospect, September 2, 2020
+++
Oprah Magazine's list of 125 Black owned independent bookstores that amplify the best in literature, by Mackenzie Jean-Phillippe.
+++
On September 2, while on a campaign visit to North Carolina DJT launched a new riff, telling voters there to vote twice – first by mail and then in person – to "test" the system and "insure" their votes would be counted. Predictably, because encouraging people to vote twice is a felony, the media lost its shit immediately, but equally predictably, missed the real point. What the asshat in chief is up to is pretty transparent. If any number of citizens do vote twice, it will cause vote counters to spend more time verifying votes and potentially break the vote counting system. Trump wants the election results to be delayed as long as possible. He can declare himself the winner based on voting in person results, and claim the election to be a "mess" and invalid. Barr, his complicit toady, will either orchestrate a failure of the Electoral College to make a decision, and throw the election to the House of Representatives, or if necessary, based on the likely civil unrest caused by their machinations or a Reichstag fire event they create, declare martial law, suspend the Constitution and take power as a dictator.
If you think this is fanciful, think again. Trump will do anything to stay in power, pure and simple.
"At the end of his congressional testimony in February, Michael Cohen, Donald Trump's former fixer, floated a nightmarish possibility. "Given my experience working for Mr. Trump," Cohen said, "I fear that if he loses in 2020, that there will never be a peaceful transition of power."
+++
How Trump Could Lose the Election and Remain President
A step-by-step guide to what might happen if he refuses to concede, by Daniel Block, Washington Monthly, April/May/June 2019
"The Republican Party has proven more than willing to violate democratic norms. There is a sequence of events, each individually plausible, that would allow Trump to remain president even after a clear defeat."
We cannot discount any scenario that leads to the collapse of our democracy. Putin's Puppet and Moscow Mitch came by these nicknames for good (t)reason.
+++
Was all that money I made las' year

(for Whitey on the moon?)

How come there ain't no money here?

(Hm! Whitey's on the moon)

Y'know I jus' 'bout had my fill

(of Whitey on the moon)

I think I'll sen' these doctor bills,

Airmail special

(to Whitey on the moon)
--Whitey on the Moon, Gil Scott-Heron
+++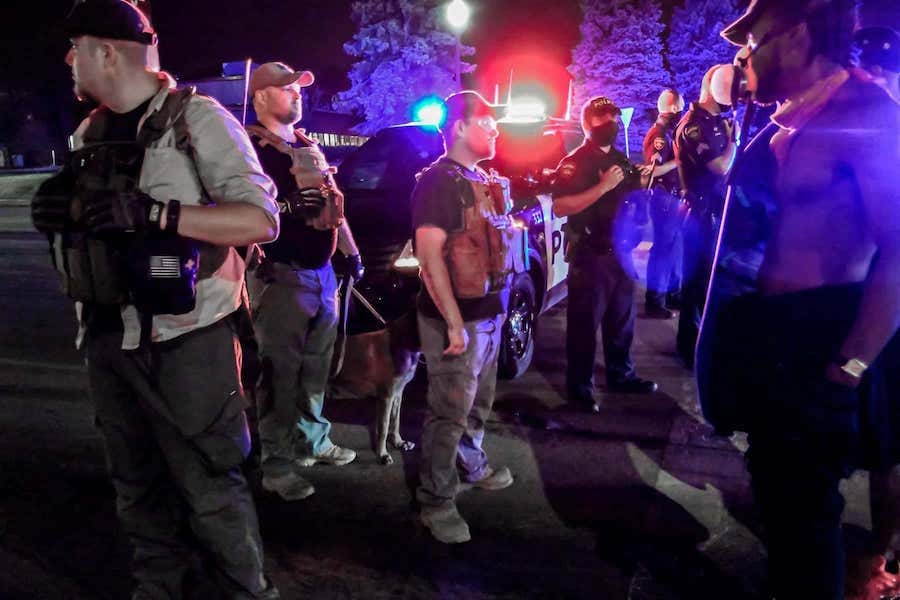 The shooting of 48-year-old supposed "Antifa" member and accused murderer Michael Forest-Reinoehl by a task force of DHS led police on September 3 in Washington state reminded me of the FBI led effort to destroy the Black Panther Party in 1969. Under Nixon and J. Edgar Hoover's notorious Cointelpro program, the Panthers were falsely painted as a dangerous violent leftist organization, and then its members were executed under cover of staged attacks. Now Antifa is getting the same treatment, following the same playbook. So we have to be suspicious of the claims that Antifa or any other BLM affiliated protest group is to blame for any sort of violence. Meanwhile, far-right groups are used to stoke violence and act as black-shirt militants to attack peaceful protesters and create violent pictures for media consumption to discredit the legitimate protest movement.
(December 4, 1969)

Black Panthers Fred Hampton, 21, and Mark Clark, 22, are gunned down by 14 police officers as they lie sleeping in their Chicago, Illinois, apartment. About a hundred bullets had been fired in what police described as a fierce gun battle with members of the Black Panther Party. However, ballistics experts later determined that only one of those bullets came from the Panthers' side. In addition, the "bullet holes" in the front door of the apartment, which police pointed to as evidence that the Panthers had been shooting from within the apartment, were actually nail holes created by police in an attempt to cover up the attack. Four other Black Panthers were wounded in the raid, as well as two police officers.

The raid, which had been led by Cook County State's Attorney Edward Hanrahan, was only one of many attempts by the government to weaken the Black Power movement. Under the leadership of J. Edgar Hoover, the FBI had been battling civil rights activists and other minority leaders for years with their Cointelpro program, whose purpose, according to one FBI document, was to "expose, disrupt, misdirect, discredit or otherwise neutralize the activities of black nationalist hate type organizations and groupings, their leadership, spokesmen, membership and supporters." Although the FBI was not responsible for leading this particular raid, a federal grand jury indicated that the bureau played a significant role in the events leading up to the raid; Hanrahan had utilized information provided by FBI informant William O'Neal, who was third in command of the Chicago Panthers, to plan his attack.

There was also a conscious effort by the FBI to use "aggressive and imaginary tactics" to prevent the "rise of a 'messiah' who could unify and electrify the militant black nationalist movement." –History.com
It is striking (and no surprise) that whenever progressives are armed, they are immediately pursued, vilified, and struck down by law enforcement, whereas armed right-wing militias appear to be widely welcomed by police and Republicans.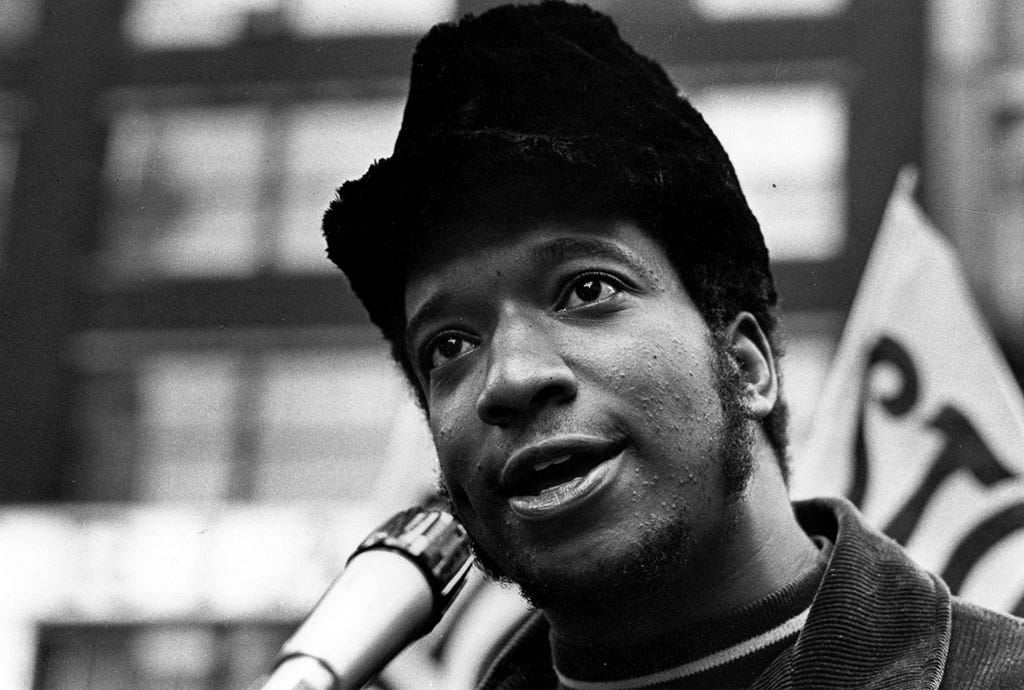 Photo by Paul Sequeira, Fair use image
+++
A Supercomputer Analyzed Covid – and an Interesting New Theory Has Emerged: A Closer Look at the Bradykinn Hypothesis, Thomas Smith, The Elemental (on Medium).
Earlier this summer, the Summit supercomputer at Oak Ridge National Lab in Tennessee set about crunching data on more than 40,000 genes from 17,000 genetic samples in an effort to better understand Covid-19. Summit is the second-fastest computer in the world, but the process — which involved analyzing 2.5 billion genetic combinations — still took more than a week.

When Summit was done, researchers analyzed the results. It was, in the words of Dr. Daniel Jacobson, lead researcher and chief scientist for computational systems biology at Oak Ridge, a "eureka moment." The computer had revealed a new theory about how Covid-19 impacts the body: the bradykinin hypothesis. The hypothesis provides a model that explains many aspects of Covid-19, including some of its most bizarre symptoms. It also suggests 10-plus potential treatments, many of which are already FDA approved. Jacobson's group published their results in a paper in the journal eLife in early July.
This disease is unbelievably weird and subtle. The more we learn about it, the more we must wonder at its complexity.
+++
Silence is Golden:
Mask Up and Shut Up -- COVID-19 transmission would go down if we spoke less, or less loudly, in public spaces. Why aren't more people saying so? – Derek Thompson, The Atlantic, 8/31/20
"Every route of viral transmission would go down if we talked less, or talked less loudly, in public spaces," Jose L. Jimenez, a professor at the University of Colorado at Boulder, who studies disease transmission, told me. "This is just a very clear fact. It's not controversial."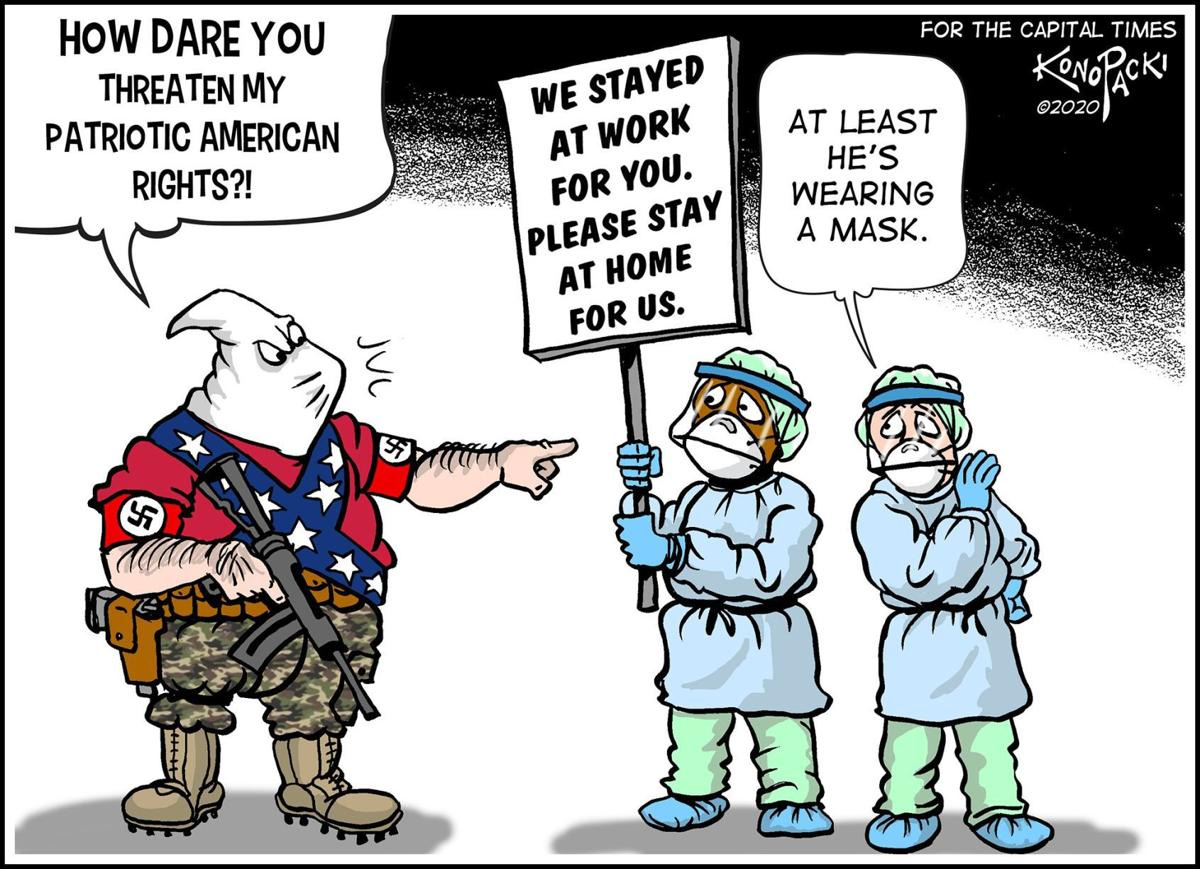 +++
And I won't breathe the bracing air when I'm gone

And I can't even worry 'bout my cares when I'm gone

Won't be asked to do my share when I'm gone

So I guess I'll have to do it while I'm here.
When I'm Gone, a great song by the long gone and missed Phil Ochs.
+++
Hoboken has filed a lawsuit against Exxon Mobil, Shell, BP, Chevron, ConocoPhillips and the American Petroleum Institute for damages inflicted on upon the city through the impacts of climate change. Hoboken Mayor Ravi Bhalla announced on Wednesday the lawsuit, which was filed in Superior Court of Hudson County.
In its 146-page complaint, the city argues that the oil companies and the API, which lobbies for the oil industry, have known about the future impacts of climate change for decades, but actively denied the science of the unfolding environmental catastrophe while prioritizing profits made from global societies reliance on oil and natural gas.
N.J. city makes history, is first to sue oil giants for climate change damages, Nj.com, September 2, 2020
+++
LOST IN THE SUN
joyful black fathers
throwing their little ones into the air
years later a troubling blue sky
blankets their world
black fathers at funerals
no longer able to catch their sons
black fathers no longer standing
in a field of dreams
their black boys gone
sunglasses unable to hide their
grief
--E. Ethelbert Miller
+++
Correcting an error.
In the July 26 issue of TWT, I ran a quote I incorrectly thought was from Werner Herzog:
Dear America: You are waking up, as Germany once did, to the awareness that 1/3 of your people would kill another 1/3, while 1/3 watches.
Evidently this quote has been circulated widely since 2017, and is falsely attributed to Herzog, who has no Twitter account and has never tweeted anything. According to Snopes.com: This quote originated with a message posted by the "Werner Twertzog" Twitter account. This Twitter account is not owned, operated, or affiliated with the German film director. Rather, it is run by William Pannapacker, a professor of American literature at Hope College in Holland, Michigan.
It's still a great quote though.
+++
The Weird Times has a bookstore! Visit my Bookshop.org reading shelf, where you can easily buy books from The Bookshop, as an alternative to Amazon.
+++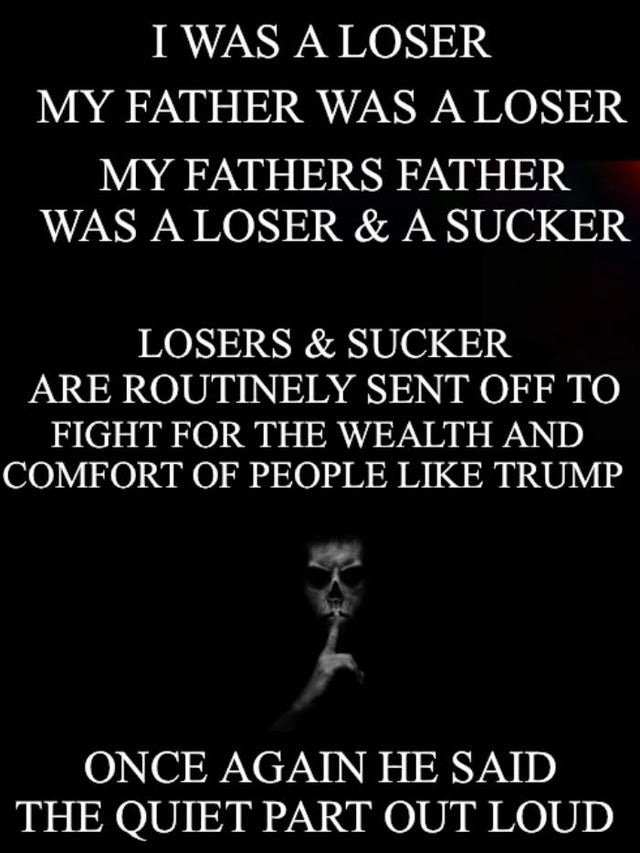 We should enjoy Labor Day, but never forget what it means, and the never-ending struggle for justice, why we celebrate this day.